Graduate Course - Clayton, NC - January 18, 2020
Friday, December 6, 2019
By:

RLI Graduate? Congratulations!!
With that behind you, now is the time for you to move your Rotary knowledge to the next level.
Join us at the RLI event in Clayton, NC, January 18, 2020.
We invite you to have fun playing in the river of time
The Rotary Global History Fellowship at the request of RLI international has created an RLI Graduate History course for Rotarians.
This course is not designed to challenge any existing conceptions you may have about Rotary, but rather to explore and interpret some of the actions that were influential in the development of our Rotary organization. Wonderful background knowledge for you to have as you continue your Rotary journey.
It concentrates on some of the "turning points" along the timeline of Rotary history. Though group discussions of the background and reasons for some of these more noteworthy events we hope to stimulate a desire in you to learn more about Rotary International history, along with those key components that have ultimately contributed to the history of your District and club.
This RLI Graduate History course will be offered during our Clayton RLI on 18 January 2020.
You can sign-up for the course on DACdb.
Don't forget about our RLI offer to train 4 Rotarians for the price of 3. Attendance at this event will help you qualify for that discount.
Looking forward to seeing you in Clayton on 18 January.
---
RLI FREDERICKSBURG, NOVEMBER 9. 2019
Wednesday, November 20, 2019
By:
RLI FREDERICKSBURG, NOVEMBER 9. 2019 – A HUGE SUCCESS.
42 Rotarians attended to strengthen their leadership skills and increase their understanding of the Rotary world. They participated in fast-paced, interactive sessions geared toward all knowledge levels, from new Rotarians to those with 20+ years of Rotary experience.
Eight outstanding, dedicated facilitators from three districts shared their Rotary knowledge with great discussions, exchange of ideas and fun techniques.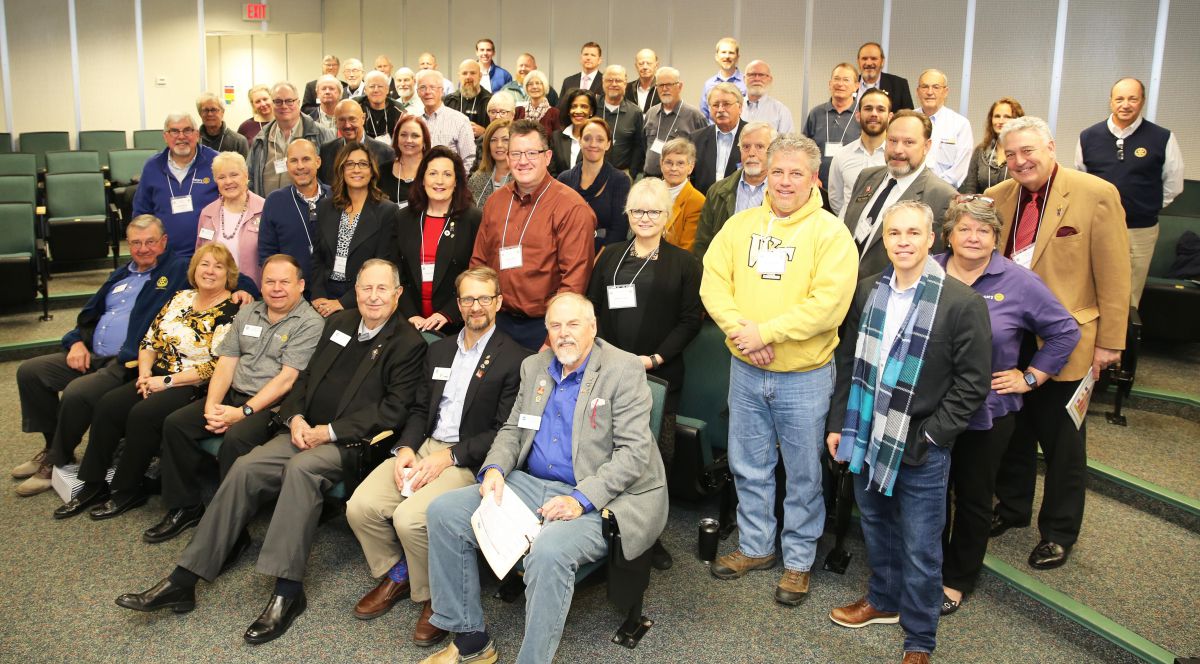 ---
Myrtle Beach, SC 2019
Date: October 19, 2019
Location: Horry-Georgetown Technical College, Conway Campus
Attendees: 14 registered, 12 attended; 8 from District 7770, 3 from District 7730, 1 from District 7620
Facilitators: Rick Moreau, Anita Moreau, Tarek Moneir, Sandee Brooks, Susan Cannup, Herman Dixon, Tom Ledbetter
District 7770 Representatives: Governor Johnny Moore, DGE Paulene Levesque
RLI33 Representative: Rod Funderburk
Summary:
We were pleased with the turnout, the participation, and the outcomes of this training.
Four (4) attendees graduated with Completion of Course certificates (picture attached, L to R):
Tom Ledbetter: District RLI Chairman
Clint Berry, South Brunswick Islands (7730 in NC)
Dean Roberts, Hilton Head Island (7770 in SC)
Chris Stevenson, Leland Area (7730 in NC)
Ginger Weldon, Myrtle Beach (7770 in SC)
Johnny Moore, District Governor 7770


---
RLI Charlotte 2019
The Rotary Leadership Institute in Charlotte, NC on October 12, 2019 was a tremendous success. There were 20 participants altogether with seven (7) in Part 1, seven (7) in Part 2 and six (6) in Part 3 representing clubs from South Carolina and all three geographic areas of North Carolina. In addition to Parts 1, 2, and 3 a training for new facilitators was conducted by Joe Running using the newly written curriculum for the second time (first time in Durham three weeks prior). Twenty-one (21) different clubs were represented from Districts 7545, 7670, 7670, 7680, 7710, 7730, 7750 and 7770.
Six Rotarians completed Part 3 and became RLI Graduates - Christy Smith (Charlotte Providence), Celeste Renaldo (Denver/Lake Norman), Brent Messer (Gastonia), Maya Tsekova (Ballantyne) and Deborah Friedman (Summit) not pictured.


---
RLI Durham NC 2019
On Saturday, September 28, 2019, the Mid-Atlantic Rotary Leadership Institute held it's annual Parts I, II, and III, plus a new faculty training event in Durham, NC. Special thanks go out to Durham Rotary Club President Todd Taylor for personally hosting, at no cost, around 70 students, faculty, and staff at the Duke Corporate Education Center he manages.
The facility was perfectly suited for the 24 Part I, 17 Part II, 11 Part III, and 8 faculty participants on hand. Regional Coordinator, Dr. Tim Beck, and District 7710 Chair, LeeAnn Graham, organized the event and the faculty present included DG Marie Howard, David Howard, Tim Mannix, Leigh Hudson, Dr. Robin Dabney, Jim Lovejoy, Dr. Tim Beck, Debbie Scott, R.B. Richey, and Rick Carnagua.
Congratulations to the 11 new graduates and 8 new faculty members!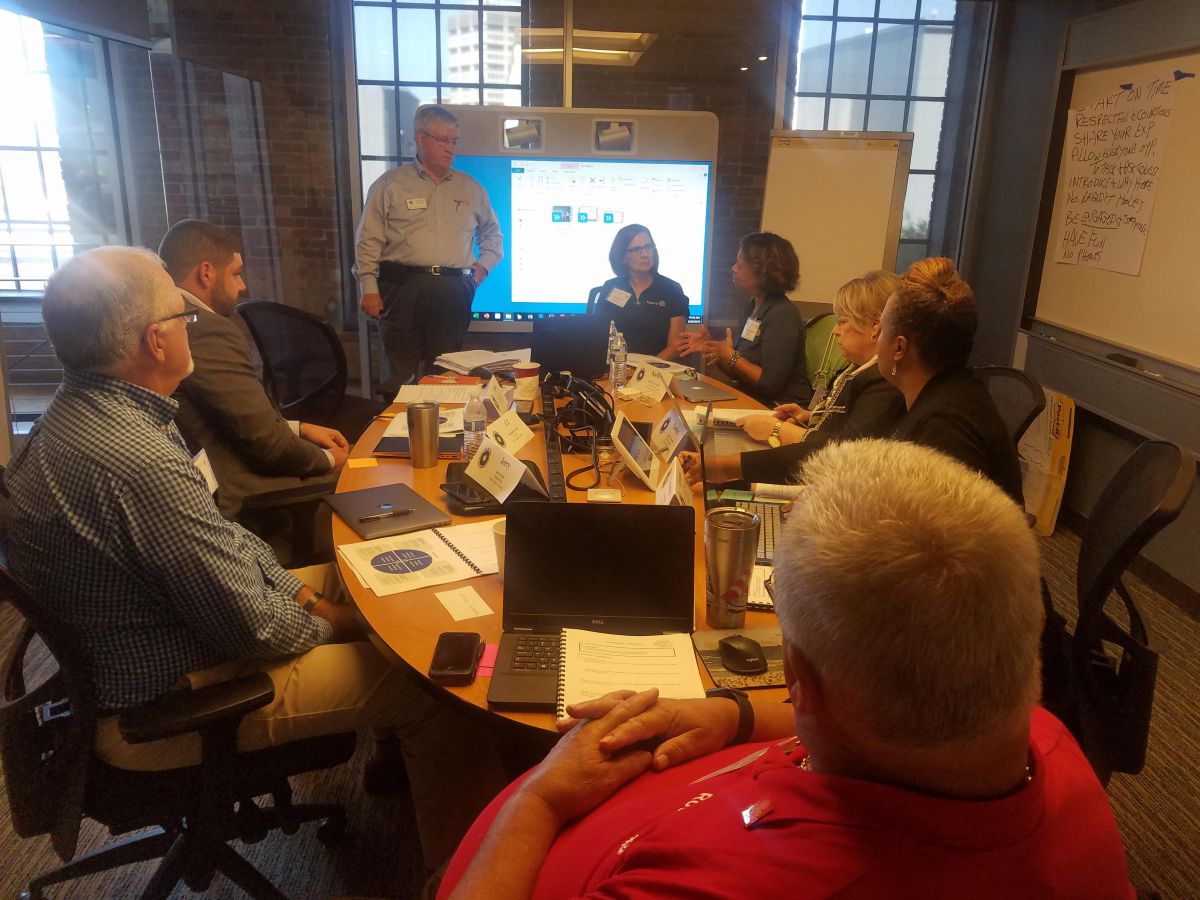 ---
RLI Jacksonville NC 13 September 2019
A banner RLI event was held in Jacksonville, NC on Friday September the 13th.
Our Graduates: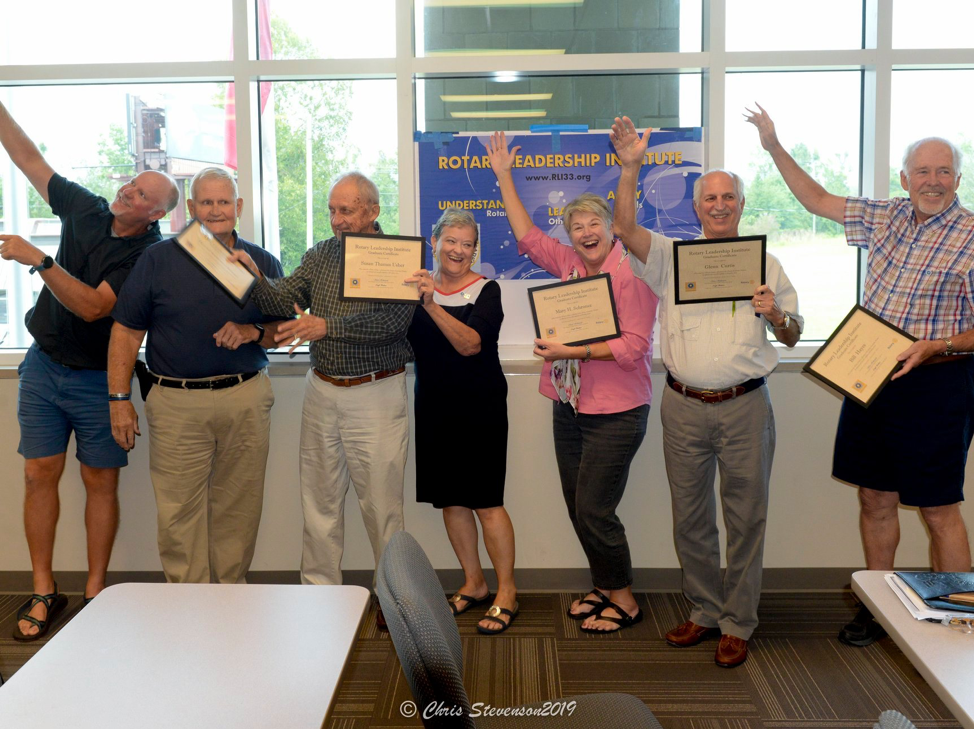 Part III Graduates (L-R) Gary Lazorek, JC Hardee, Bunch Anderson, Susan Usher, Mary Schronce, Glen Curtis and Bill Hayes
There were a total of 13 Rotarians in Part I, 11 in Part II and 7 in Part III, Graduates, for a total of 31 attending
Assisting in the Graduation ceremony was PDG RB Richey.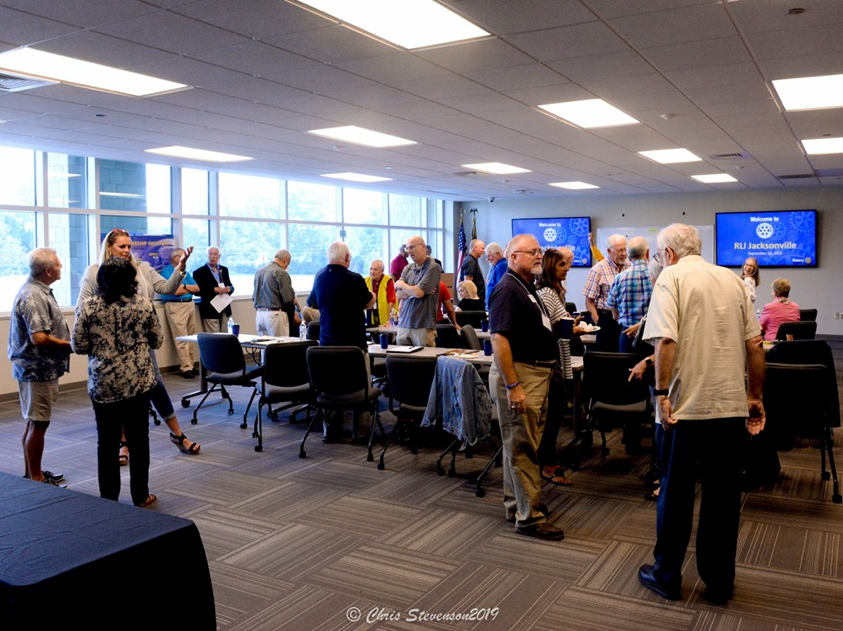 The group making new friends in the Public Safety Building Conference Room
Thanks to DGE Dawn Rochelle for arranging our use of this nice facility.
We were supported at the event by our D7730 DG Doug Wolfe and DGEN Ellen Deaton.
Facilitating were: Anita and Rich Moreau, Joe Running, Tim Beck, PDG RB Richey and Steve Hellersperk.
Thanks to Chris Stevenson, class participant, for the great photos.
Food was provided through Rotarian Reva Sullivan, and it was good.
A good time was had by all.
---
2019 Summer Board and Training Meeting
Mid-Atlantic RLI held its annual summer Board and Training meeting at Virginia Crossings Hotel & Conference Center, Tapestry Collection by Hilton in Glen Allen, VA, July 11-13, 2019. Sixty-four Board members, Faculty, new Faculty, and recertification of Faculty were in attendance.
Mid-Atlantic RLI has reorganized itself into a committee structure organization:
Board of Directors

Chair: PDG Leigh Hudson (2017-2020)
Vice-Chair (Chair-Elect) PDG Lorraine Angelino (2019-2022) Secretary: PP Ed Shearin (2018- 2021)
PDG Sandy Duckworth (2017-2020)
PP Georgia Oakes (2018-2021) PP Rod Funderburk (2019-2022)
Treasurer: Linda Carducci (Ex- Officio)
Immediate Past Chair: PDG Michael Ellington (Ex-Officio) Board By-Law Change TBD: Chairman Emeritus:
PDG Bevin Wall (Ex-Officio) Events Chair: PP Bob Stinson (Ex-Officio)

Finance Committee


Chair: Lorraine Angelino Treasurer: Linda Carducci Board Chair: Leigh Hudson CE: Bevin Wall

Events Committee
Chair: Bob Stinson
Promotions: Ken Dresser Registrar: Lin Kelly
Meetings Planner: Georgia Oakes Bio Coordination: Ed Shearin

Faculty & Curriculum Committee Chair: Sandy Duckworth
Past Chair: Pam Wall
Curriculum: Bevin Wall
CE Trainer: Tim Mannix
CW Trainer: (TBD)
MV Trainer: (TBD)
CH Trainer: Steve Cook
Bio Coordination: Ed Shearin

Regional Coordinators Committee

Carolinas East: Rod Funderburk (Chair)

Carolinas West: Tim Beck Mountain Valley: Dave Cavender
Chesapeake: Roger Harrell
Mid-Atlantic RLI has 184 registered Faculty who are certified to facilitate all parts of the Program (https://www.rli33.org/programs-courses/). Each year, over 50 Events are offered in Zone 33: MD, DE, DC, WV, TN, VA, NC, SC, and PA of Rotary International.

Find Your Passion in Rotary athttps://www.rli33.org
To view pictures of the Summer 2019 Meeting, link tohttps://www.flickr.com/gp/52387597@N04/q8bmfb
---
RLI Locust Grove VA
District 7610 RLI – November 9, 2019, Germanna Community College, 2130 Germanna Hwy, Locust Grove, VA
We are excited to bring you ourRotary Leadership Institute (RLI) near Fredericksburg at Germanna Community College, 2130 Germanna Hwy, Locust Grove, VA (just off Rt. 3 toward Culpeper). RLI offers a series of three multi-district, one-day courses in sequential order that are offered to refine a Rotarian's leadership skills and increase their base of knowledge of Rotary. The course sessions are fast-paced, interactive and emphasize both leadership skills and knowledge of Rotary around the world. Courses are also geared toward Rotarians of all knowledge ranges, from new Rotarians to those with 20 or more years of Rotary experience who want to enhance their Rotary knowledge. To register: www.rli33.org– click on Events Registration in top ribbon – select the event on left side and "more info" – scroll to bottom of page, click on "Request EZLink registration link" – follow instructions.
---
Columbia, SC April 27, 2019
Saturday, April 27, 2019
By:
Mid-Atlantic Rotary Leadership Institute Columbia, SC Event
The April 27, 2019 Rotary Leadership Institute (RLI) event healed at the Midlands Technical College Airport Campus in West Columbia included Parts I, II and III. A great time was had by all. There were 38 participants representing 27 Rotary clubs from 4 districts (7770, 7750, 7690 and 7680). At the end of the day we celebrated 17 new graduates. Catering was provided by Eggs-Up Grill and Travinia's Italian. A special thanks to our district chair who arranged all of the details.
We are especially appreciative of the six faculty members who guided the fun: Tim Beck, Herman Dixon, Georgia Oakes, Marcia Scheideman, Renee Stubbs, and Doris Wallace. The District 7770 Governor, David Tirard participated in the opening welcome, and the graduation ceremony as well as visited many of the classes during the day.
Back Row
Don Worley, William Keller, Jerry George, Robert Bussa, Jeffrey Baldwin, David Tirard, Tom Ledbetter, Scott Powell, Eric Taylor
Front Row
Jack Walker, Bea Walker, Sharon Teague, Holly Furr, Pandra Lemrow, Lorena Prince, Bonnie Littrell, Sharman Poplava, Dawn Reynolds
---
RLI Summer Meeting
DATE 12-13 JULY 2019
Virginia Crossings Hotel, Tapestry Collection by Hilton
1000 Virginia Center Parkway
Glen Allen, VA 23059
OR call 1-888-444-6553
Please NOTE: There will be a meeting of the Board of Directors and Staff that begins at 1:00 PM on Thursday, July 11.
---
RLI Mooresville NC
The Rotary Leadership Institute in Mooresville, NC was a resounding success. There were 20 participants altogether with five(5) in Part 1, eight (8) in Part 2 and seven(7) in Part 3 representing clubs from Columbia SC to Greensboro, NC and many stops in-between. Thirteen different clubs were represented. And one of the Part 3 graduates has been an active Rotarian for 25 years!
Six Rotarians completed Part 3 and became RLI Graduates - Amy Gulig-Strong (Lake Wylie), Susan Robertson (Top-of-the-Lake Mooresville), Barry Steiger (Matthews), Carrie Walters (Rowan County), Ron Wimberly (Charlotte Providence), Elizabeth Corine "Cori" Stuart (Huntersville Happy Hour) and Carl Fisher (Matthews).
---
RLI Sparta NC
Saturday, March 9, 2019
By:
Part I in Sparta
Time for a break and a conversation
Our first ever Rotary Leadership Institute session held in Sparta, NC on March 9th was a great success! Twelve participants from Alleghany County, Ashe County, and even from Virginia attended and were energized by each other's knowledge and enthusiasm about Rotary and their clubs. Three of the attendees had been in Rotary for under 1 year! It was a dreary cold day on the outside, but inside was full of sunshine and energy! In fact, Rotarians enjoyed the Part 1 session so much that we set a date then and there to bring RLI Parts 1, 2, and 3 to Sparta on October 19, 2019! Come peep at the autumn leaves and attend with us for food, fun, fellowship and learning!
---
Hilton Head 2019
Saturday, March 9, 2019
By:
Mid-Atlantic RLI Comes to Hilton Head
On March 9, 2019 RLI had 27 Rotarians participate in Parts I, II and III. Three Rotary Districts were represented: 7770, 7750 and 7570. RLI was held at Hilton Head Prep and catering was provided by Plantation Deli and Michael Anthony's Cucina Italiana.
Five Rotarians received their RLI graduate pins:
Shown with Graduates: Joan Grayson (District 7770 RLI Chair); David Tirard (District 7770 District Governor): Rod Funderburk (RLI Regional Coordinator)
Milton Carter - Rotary Club of Kingsport Downtown, TN
Joseph Chappell - Rotary Club of Hilton Head Island
Ralph Eckles - Rotary Club of Hilton Head Island - Sunset
Lee Anne Kitchen - Rotary Club of Laurens, SC
Susan Tirard - Rotary Club of Hilton Head Island
Submitted by:
Joan Grayson
---
Great Time in Jacksonville NC
Saturday, March 2, 2019
By:
Rotary "Learning Institute" Jacksonville NC
District 7730 hosted an RLI at Coastal Carolina Community College on March 2nd. The 41 participants came from Clubs throughout eastern North Carolina. An earlier RLI in Jacksonville was cancelled due to Hurricane Florence, so the excellent participation in this event was very rewarding. The group can to learn, make new friends, and widen their knowledge of Rotary. The pictures below show that they had fun.
Ready to Start the Day
Surrounding DG April Clark (4th from the left) and showing how far we need to go to eliminate Polio, Robert Collins (Wilmington) , Patrick Duncan (New River), Travis LeFever (Kernersville). Eric McKeithan (Wilmington), Cary Olin (South Brunswick Islands), Mollie Shiflet (Wilmington), Stanley Simchick (Richland). Margaret Turner (Wilmington West), David Vanesse (South Brunswick Island)
---
RLI Charleston
Saturday, February 16, 2019
By:
MID-ATLANTIC RLI COMES TO TRIDENT TECHNICAL COLLEGE
February 16, 2019 was a rainy, dreary day in Charleston, South Carolina but that didn't stop 26 Rotarians from 5 different districts in South Carolina and North Carolina from having a great time enjoying friendship, fun and sharing ideas in facilitated based classes to learn more about Rotary and ways to enhance their clubs.
Rod Funderburk (RLI Regional Coordinator), John Riley (Dunn), David Matheny (Charleston), Melissa Johnson (Four Seasons Hendersonville), DG David Tirard (D-7770), David Hovis Sr. (Myrtle Beach), Terry Egan (Carolina Forest Sunrise), Delynn Barnes (Twin City Batesburg-Leesville), Joan Grayson ( District Chair)
Six Rotarians graduated and received their RLI pins from District Governor David Tirard and Regional Coordinator Rod Funderburk:
Mark your calendars and plan to join us for RLI on Saturday, March 9, 2019 at Hilton Head Prep in Hilton Head, SC and on April 27, 2019 at Midlands Technical College in Columbia, SC (Airport Campus). Parts I,II and III will be offered.
Submitted by Joan Grayson, Mid-Atlantic RLI District Chair 7770
---
New Faculty Training
Friday, February 8, 2019
By:
5 New Faculty Added
On February 8th a training session for new Facility was facilitated by PDG Steve Cook. As a result we have added five new faculty members to our RLI Roles. All our faculty have been trained in facilitation techniques which eliminate the need for boring lecture and encourages group involvement. Welcome to our new facility below:
Sean McAlister (D-7620). DGN Sean Sawyer (D-7530), Bonnie Branciaoli (D-7530), Steven Mullin (D-7610), Frank Mullin (D-7610), Trainer PDG Steve Cook.
---
RLI Clayton NC
Saturday, January 26, 2019
By:
District 7710 Hosts a Major RLI Event
Rotary Leadership Institute had another successful event in Clayton NC on January 26th. The event took place the Johnston County Workforce Development Center. With 53 Rotarians in attendance for this year's event In was one of the largest events of the year. It included 38 in Part I, 10 in Part II and 10 in Part III Three Clubs took advantage of the 4-4-3 Incentive Program, which included Clayton, Central Johnston County, and Knightdale Clubs. That programs provides for a tuition rebate of one when 4 members from the same Club register and attend the event. Shown below are the 10 happy graduated.
Lynne Carpender (Zebulon), Bunmi Fatoya-Matory (Downtown Durham), Lynanne Fowle (Downtown Fuquay-Varina), Cris Kay (Central Johnston County), Leigh Malloy (Clayton), Octavious Murphy (Greensboro-Three Eagles), James Perricone (Clayton), Thomas Schaffer (Clayton), Michael Sims (Clayton), Paul Wasyikevych (Cary)
---
RLI Duncan SC
Saturday, October 27, 2018
By:
Travis Sutton (Spartanburg), Charles Saverance (Hartsville), Lelion Elledge (Greenwood), District Governor 7750 Carol Burdette, Karen Culley (Pickens), Jim Mullikin (Easley), Leroy Kennedy (Union)
District 7750 hosted another successful Mid-Atlantic Rotary Leadership Institute event at the Tyger River Campus of Spartanburg Community College in Duncan, SC on Saturday, October 27, 2018. A total of 20 eager Rotarians from 13 clubs representing three districts and two zones enjoyed a day of outstanding learning and typical warm Rotary fellowship. Six participants completed Part III and received the coveted RLI Graduate pin from 7750 District Governor Carol Burdette. Thanks to the outstanding staff and faculty who made this another great RLI day. Regional Coordinator Ken Dresser oversaw the operation, assisted by District 7750 Chair Bert Strange who facilitated the sessions along with Lorraine Angelino, Gene Moorhead, Georgia Oakes, Barbara Shayeb-Helou, and Renee Stubbs.
Georgia Oakes facilitating
District 7750 will host another event in Anderson, SC on Saturday, March 2, 2019.
---
RLI Myrtle Beach
Saturday, October 20, 2018
By:
MYRTLE BEACH RLI 2018
On October 20, 2018 all three parts of RLI were offered at Horry Georgetown Technical College Grand Strand Campus. Eight Rotarians graduated and received their RLI pins from District Governor 7770 David Tirard:
Butch Blanchard, Whiteville; Peter Braun, Southport; Jim Brooks, Whiteville; David Tirard, DG 7770; Herman Dixon, Summerville: Merry MacBarb, Southport; Carolyn Newman, East Chapel Hill; George Sanderson, Myrtle Beach; Jessica Smith, Myrtle Beach; Joan Grayson, D 7700 RLI Chair
Catering was provided by Eggs Up Grill Catering and Travinia Restaurant Market Common.
Mark your calendars and plan to join us for RLI Events in D 7770:
Saturday, February 16, 2019 Charleston, SC
Saturday, March 9, 2019 Hilton Head, SC
Saturday, April 27, 2019 Columbia, SC
Submitted by:
Joan Grayson
RLI Chair District 7770
---
RLI Charlotte NC
Saturday, October 6, 2018
By:
Part III graduates and RLI staff & faculty at the LEEDS Gold certified UNC Center City building in Charlotte.
L to R: Faculty members Assaad Mounzer, Gene Moorhead, Tim Beck, graduate Suneel Jaitly, District 7680 District Governor David Hare, graduates Mary Smith, Kim Atwell, Adam Lee, Joan Foley, RLI District 7680 Chair Georgia Oakes, graduate Larry Schronce, and District Coordinator and PDG Ken Dresser. (Not shown are faculty members Alvin Lewis, PDG Tom Smith, and Linda Carducci.)
Five Rotary Districts were represented at this Rotary Leadership Institute with 25 students participating on a lovely fall day in Charlotte NC. Part I participants are looking forward to completing Part II and III and Part II participants eagerly move on to graduate. Some also expressed an interesting in becoming a faculty member and were pleased that the next faculty training will be close by in Kannapolis NC on January 11-13, 2019.
These three Part I participants chose to define their Rotary Clubs as "Strong" and having "High Impact" in the Engaging New Members session. L to R: Scott Powell, Greenville SC Rotary Club; Jacqueline Brumell, Rotary Club of Spartan West; and Leslie McArthur, Rotary Club of Charlotte Providence. Jacqueline and Leslie have been Rotarians for only a year and are already engaging tremendously!
---
Lancaster SC Mini RLI
Saturday, August 25, 2018
By:

On Saturday, August 25, a baker's dozen of enthusiastic Rotarians representing nine clubs from two districts gathered on the USC Lancaster campus for a Mini-Rotary Leadership Institute. They were eager to jump-start their RLI journey by completing Part I before the main "season" begins, so that they can complete the entire course as soon as possible. Rotarians Ken Dresser (North Mecklenburg, NC), Alvin Lewis (Matthews, NC), Georgia Oakes (Charlotte Providence, NC), and Bert Strange (Greenville, SC) facilitated the lively discussions. Thanks to the diligent efforts of Regina Maxfield and April Joplin of the host Rotary Club of Lancaster, the participants and faculty enjoyed a full day of learning more about Rotary and making new friendships.
Perhaps the most special story of the day was the participation of Bobby Bailey and Keeonn Wilson, the father-son duo of Lancaster Rotarians. Bobby has been a Rotarian for almost 14 years. Keeonn joined the Lancaster Club on August 9. That's right -- he came to RLI with two weeks of Rotary experience under his belt. And guess which one insisted that they both come to the event. KEEONN. Now that is a young man who knows how to be a Rotarian! The folks in Lancaster have found a keeper!
Keeonn and Bailey Wilson
Bert Strange
District 7750 Chair
Rotary Leadership Institute.
---
RLI Rockville MD
Saturday, August 11, 2018
By:
Rotary Leadership Institute – Rockville Rocks!
August 11th the Rotary Leadership Institute (RLI) had a great turnout with a massive Part 1 and great Part 2 and Part 3 turnout. There were six Rotarians in Part 3 who graduated and can now go on to become RLI faculty or carry the Rotary torch into their Clubs and beyond.
The RLI was held at Montgomery College in Rockville, MD with 21 Rotarians in Part 1, 6 in Part 2, and 6 in Part 3. District 7620 Governor, Rich Glover, came by to talk to the RLI attendees and pose for the class pictures at the end.
It was a great time with good food and fellowship among lots of Rotarians from different Clubs. We look forward to a great session in Frederick on Saturday November 3rd in the heart of Frederick's Historic District and the Rotary Club of Carrol Creek's meeting place.
Sharon Tolliver-Wilson, Historic Prince George Co., Toto Reconco, Metro Bethesda. Kelsey Scanlon, Glen Burnie, DG Richard Glover, Southern Frederick Co.,Chetana Bhar, Howard West, Daniel Fisher, Metro Bethesia, Barbara Sampson, Havre de Grace
---